CIAK: The 10 best short films for the common history of Greece - Italy - The results of the competition "Memory" were announced - Distinction and participation from the Region of Western Greece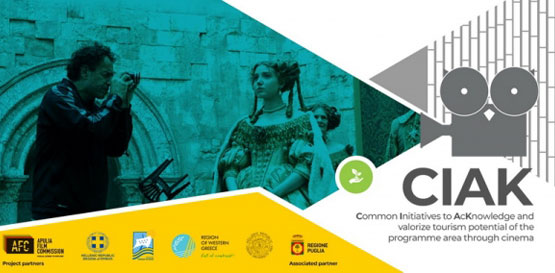 A total of 45 proposals were submitted by new directors: 29 from the Region of Puglia, 7 from the Region of Western Greece, 5 from the Region of the Ionian Islands and 4 from the Region of Epirus.
The members of the evaluation committee were: Alexandros Avranas, Greek director and documentary screenwriter, Andamion Murataj, Albanian director, producer and screenwriter and Graziella Bildesheim, Italian producer.
The aim of the competition is the production of 10 short films that present stories, characters and places capable of exploring the authenticity of Puglia's relationship with Greece. Of the 10 winners, 6 come from Puglia and 4 from the Greek Regions (Epirus, Western Greece and the Ionian Islands) participating in the project, while the film production companies are 5 from Greece and 5 from Italy.
From the Region of Western Greece, the director Georgia Bowen Cartharis was qualified for funding with the film "Farinella" produced by the "IONIAN RADIO AND TELEVISION COMPANIES SA" company. The Region of Western Greece congratulates the entire production team of the film.
Also, on Monday, May 13, 2019, the results of the Greece - Puglia screenwriting workshop were announced, under the guidance of the Artistic Director of the Laboratory, Alexandros Avranas, in the context of a corresponding invitation of the European CIAK project implemented by the Ionian University, project partner. The 15 best scenarios that had received at least a 50% score were selected to participate in the seminars.
More information at the link: ciak.avarts.ionio.gr/participants/.